Become apart of our many Group Ministries at Oneida First
Choir
Do you like to sing? Join our church choir as they sing during 9 am Worship.               Practice times are at 8:30 am before worship and immediately following worship.               All are welcome!  Led by Music Director, Hugh Jones

Bell Choir
The bell choir is open to children, youth and adults and is a great opportunity for musical expression.  Practice times are immediately following worship.  Led by Tandi Paugh
Children's and Youth Ministries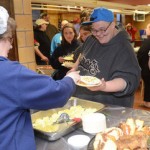 Serve in The Karing Kitchen                                                             Oneida First UMC is the home for Oneida's Ecumenical hunger ministry "The Karing Kitchen" which serves a free hot meal and bag lunch the last full working week of each month.  Oneida First is thankful to serve as the host location for this important feeding program in our community.
The Karing Kitchen is open to anyone with out limitation or requirement and seeks to serve any and all who seek our assistance.  For more information about The Karing Kitchen visit www.karingkitchen.org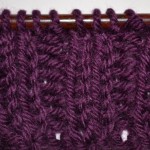 Purls of Hope                                                                                               Do you enjoy knitting? Pearls of Hope is a small group ministry that gathers to knit together and seeks to donate warm winter items to benefit those in need.  Purls of Hope  meets Monday Mornings at 9:30 am.  Please see Church Calendar or Newsletter for exact dates.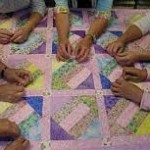 The Ties that Bind
The "Ties that Bind" are a group who is passionate about making external signs of their prayers; they make and give away prayer quilts. The group creates prayer quilts, our congregation prays for individuals and ties each quilt as a symbol of our care.  The quilts represent the support of the community for others. If this sounds like something you'd like to be a part of, come and join us! No experience needed – just a willingness to learn.  The Ties that Bind often meets Monday Morning or Saturday.  Please see the Church Bulletin or Newsletter for exact dates.